I do not publish book reviews very often, but last year I had a chance to participate in publishing of Learning Windows 8 Game Development book as a technical reviewer, and would like to share my thoughts about the book.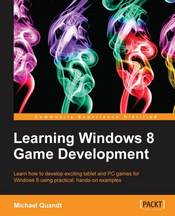 My main advice will be related to the way of reading the book – you definitely will want to have a computer nearby to try ideas described in the book. It is organized in a form of tutorial driving you from the basics of Direct3D to modelling game world and publishing game at the Windows Store. It covers the following topics:
Basics of Direct3D
Best practices for handling user input and structuring games
Using Windows 8 sensors and integration with Windows 8 tiles
Networking and multiplayer gaming
Game publishing and monetization
The only missing piece, from my perspective, is audio. It is difficult to imagine any modern game without music or sound effects, but the book does not include information about it.
In addition to pure practical information, some chapters and appendix are dedicated to the theory of 2D/3D graphics and game development. Chapters 3 and 4 are especially good in providing best practices on capturing user input and structuring games.
All code in the book is written in C++, but samples are properly annotated and explained, so basic knowledge of C++ should be enough for reading this book.
You can win free copy of book of Learning Windows 8 Game Development
I have teamed up with Packt Publishing to organize a giveaway of this book. Three lucky winners stand a chance to win 3 digital copies of the book.
How to enter
All you need to do is to tweet about this review with a link to the post and #Win8GameDev hashtag, for example:
This book will help me to learn Windows 8 Game Development: http://bit.ly/Win8GameDev via @amarukovich #Win8GameDev
The contest will close on Wednesday, Feb 22. Winners will be chosen randomly and will be contacted via Twitter to get an e-copy of the book.
blog comments powered by

Disqus